By Pabst Mansion
Captain Frederick Pabst was known across the Milwaukee area for being a generous man. He, along with other wealthy families, shared his wealth to help the less fortunate during the Progressive Era of the United States. Their donations built hospitals, parks, orphanages, theatres and other necessities for the public, many of which we still enjoy the benefit of today.
Captain Pabst had no problem with spending his wealth for the betterment of his community. For example, he wasted no time in donating $1,000 (a value of approximately $26,000 today) to help restore the Third Ward when it burned in the city's largest fire that nearly destroyed twenty blocks.  Acts such as this not only helped the community in a time of crisis, but proved a successful business strategy by making him, and his brand, more recognizable.
Frederick Pabst clearly cared deeply for his fellow man, but his sense of civic duty reached beyond human-centric efforts. Prompted by his inability to stand the mistreatment of horses by cruel owners, he co-founded the Wisconsin Humane Society along with other Milwaukee leaders like Samuel Marshall.  The Captain's support of animals in such a profound way proves how far reaching his charitable spirit was.
This charitable spirit was especially felt around Christmas time. He and Mrs. Pabst would create gift baskets filled with groceries for more than 100 families in the immediate community that would be delivered over the holiday season. They would be filled with essential foods and snacks of the time including crackers, nuts, apples, rice, oats and eleven pounds of beef. This was not just a present for the Christmas season, but helped these families survive throughout the long, cold Wisconsin winters.
Before he was a successful businessman, Frederick Pabst knew what it was like to live in poor conditions and work long hours throughout the day. Before he moved to Milwaukee he worked in a restaurant with his father as a busboy to help support his family.  This background helped him identify and relate to fellow immigrants that were coming into industrial cities like Milwaukee and living in bleak conditions. He had firsthand experience of what it meant to struggle in the world and have very little money, so he made sure his charitable projects benefitted the poor. Being a German immigrant himself, he appealed to the large German population in Milwaukee by supporting German performing arts such as plays, operas, and ballets. Through such sponsorship he not only enriched the city's cultural scene, but also set the stage to widen patronage of Pabst products. He was an expert at creating a favorable appeal of himself to the public through charitable donations which expanded his business.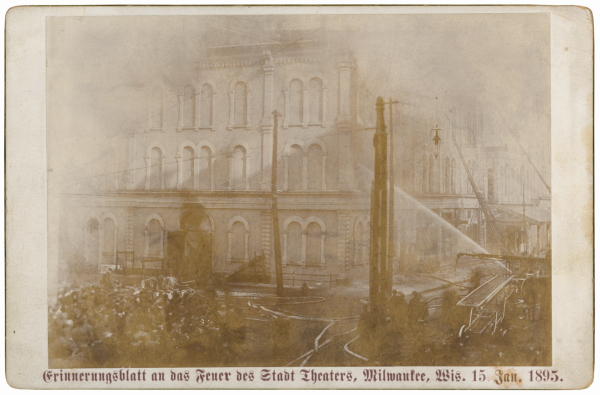 The Stadt Theatre was destroyed by a fire in 1895. Firemen and their trucks did their best to put out the flames to no avail, showing just how destructive fires could be to cities in the past. Captain Pabst later ordered the construction of a replacement 'Pabst Theatre', which still houses performances today. 
Proud of both his country of origin and his country of adoption, another public performance the Captain sponsored was the Grand Army of the Republic's Twenty-third Encampment mock naval battle in the harbor of Milwaukee in 1889.  This spectacle was put on by the city, which could not financially afford to let veterans attend for free.  In an opulent gesture of appreciation for those who fought in the recent Civil War, Pabst graciously covered the admission fee for the veterans being honored at event. This was not only a kind gesture by him but a business decision. Believing these men had served their country enough, Pabst paid over $15,000  to cover all the costs.  He was later rewarded for his actions when the veterans returned the favor a week later by moving their parade route to include the Pabst Brewing Company.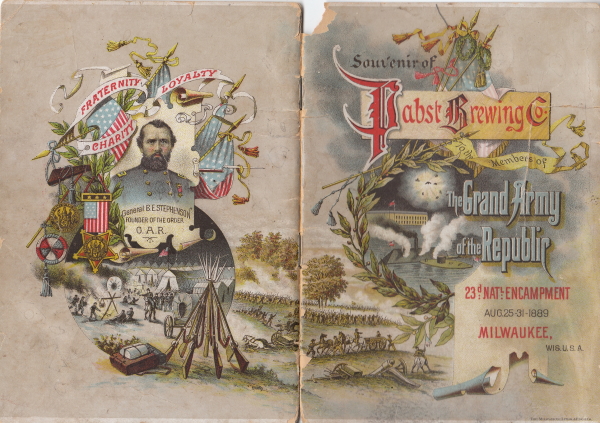 The front and back cover of the Pabst Brewing Company's booklet for The Grand Army of the Republic's 23rd National Encampment in Milwaukee.
Captain Pabst loved his community and his philanthropic projects not only helped the Milwaukee community, but also his brewing company. By combining charitable actions and his company he was able to create a strong relationship between him and his immediate community. By helping them they continued the pattern by supporting Pabst Brewing Company. His methods of enmeshing philanthropy and business showed that he cared more about a good reputation than straight bottom-line profits.  Overall, we can all learn from Captain Frederick Pabst's kind gestures of giving back.
Written by Will McClure