By Pabst Mansion
As an historic house museum that opened seventy-two years after the family (and the majority of their possessions) left, it is remarkable how many original pieces have come back to the Pabst Mansion. Naturally, donations from descendants who inherited pieces from Captain and Mrs. Pabst comprise a large component of returns. In other rare instances, original items have surfaced at auction houses or on platforms like eBay and Craigslist, such as when the Matthews Brothers desk from Gustave and Fred, Jr's library was found in Madison's Craigslist in 2013. Sifting through claims of ties to the Pabst Mansion seems an endless task, but when these needle-in-a-haystack pieces prove genuine, it is always well worth the effort.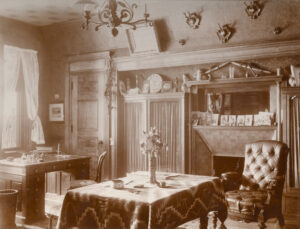 Photograph from 1897 of Gustave and Fred Pabst, Jr's library showing their writing desk with distinctive ovular knobs
After years in the dark not knowing the fate of Otto Erdmann's The Golden Wedding, the piece that once hung in Mrs. Pabst's parlor miraculously showed up at an auction house in Dallas this past spring. Having only viewed the painting through black-and-white prints and engravings, seeing it in color only added to the excitement of the find.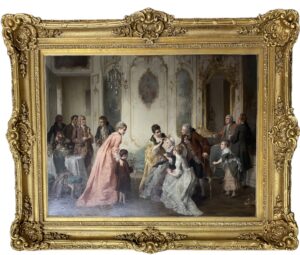 The Golden Wedding by Otto Erdmann, c. 1893
Photograph of Mrs. Pabst's parlor in 1897 with 'The Golden Wedding' hanging on the wall
One of multiple works by Erdmann owned by the Pabsts, The Golden Wedding sweetly depicts the celebration of an elderly couple's wedding anniversary. Known for collecting joyous genre paintings, this piece fits soundly within the Pabsts' collection. Thanks to contributions from Pabst members and other supporters, Erdmann's masterwork returned to the Mansion and was officially unveiled in December after receiving light conservation.
Letter indicating the purchase 'The Golden Wedding' in 1895 from Munich-based art dealer D. Heinemann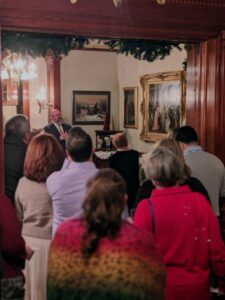 'The Golden Wedding' unveiling celebration in December
Although the painting originally hung in Mrs. Pabst's parlor, with the interiors of the French Rococo room closely paralleling those in the painting, it was decided to rehang The Golden Wedding in the Mrs. Pabst's sitting room in order to keep a piece from the Blatz art collection, Frédéric Soulacroix's Selecting the Fabric, on the parlor's eastern wall. A painter known as a master of silks and satins, it seemed fitting to leave Soulacroix's work against the French silk wall covering in the parlor.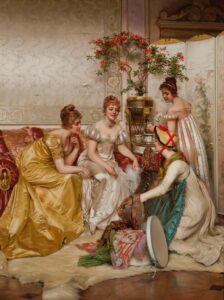 Selecting the Fabric painted by Frédéric Soulacroix in the late 19th century
In the sitting room, Erdmann's masterwork of The Golden Wedding can now be viewed alongside The Rose, another light and cheerful interior genre painting by the artist which historically hung in Mrs. Pabst's private space.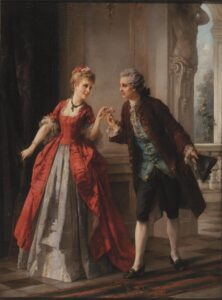 Otto Erdmann's 'The Rose' painted in 1872
For those interested in learning more about these works and others, Fine Art Tours will resume on select Thursdays and Sundays beginning in January.