By John Eastberg
When our guests visit the Pabst Mansion, there is always a wry smile when we inform them that both sons of Captain and Mrs. Pabst married brewing heiresses.  The path of those two marriages were not conceived of in a brewery board room, but were actually the product of love matches from the tight knit circles of both Milwaukee's German community and the American brewing community at large.
Frederick Pabst, Jr. was the younger of the Pabst's two boys and more reserved than his older brother Gustave.  Schooled in Milwaukee and then at a military academy in Michigan, Fred Jr. followed the path that lay before him in the brewing industry.  Like his father, Fred Jr. shared a great love of horses and of taking carriage rides with his friends.  Popular, Fred Jr. had no shortage of female admirers as a collection of letters that were preserved in his correspondence from the early 1890s illustrate.  Of course there was one young woman that Fred greatly admired and that was Ida Uihlein, the eldest daughter of August Uihlein—Secretary and largest shareholder of the Joseph Schlitz Brewing Company.  Ida's father would sometimes tease her about whether or not she was going to marry Fred to which she would reply, "No, I am not!".  On a carriage ride home after Thanksgiving dinner in 1895, Fred did propose to Ida, she readily accepted, and the two were married the following year on March 25, 1896 (incidentally the same wedding anniversary of Captain and Mrs. Pabst and by the same minister) at the Pfister Hotel.  What followed was sixty-one years of marriage and seven children.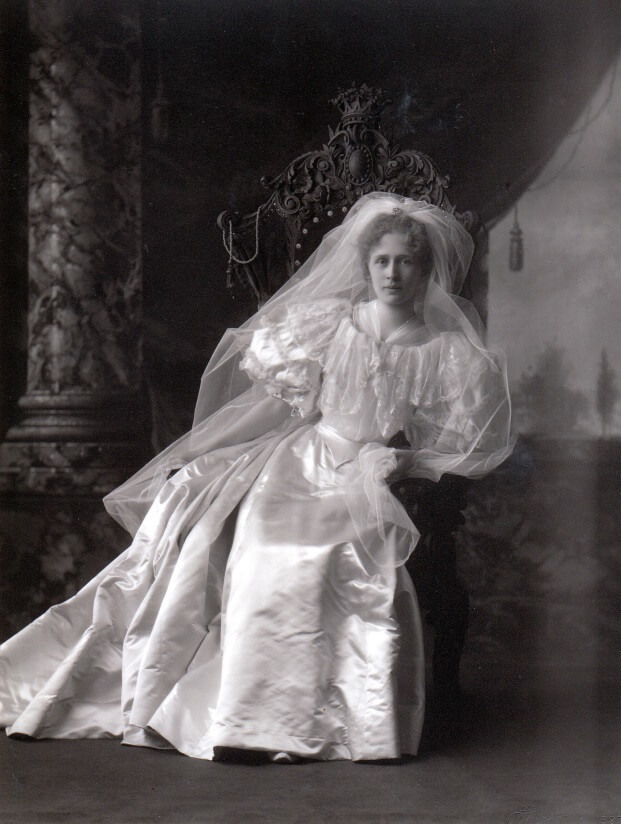 Ida Uihlein on the day of her marriage to Frederick Pabst, Jr. on March 25, 1896
Gustave's marriage to a brewing heiress would not come until his second marriage.  The Pabst's eldest son was perhaps more impetuous than his younger brother, as illustrated by his first marriage.  In the summer of 1892, Gustave became enchanted with a stage actress by the name of Margaret Mather, who had a national reputation as being one of the leading Juliets of her day, among other lead roles in Shakespeare's plays.  While recuperating at Pewaukee Lake following a recent divorce from her first husband, she met and fell in love with Gustave, who was seven years her junior.  He too was smitten after a whirlwind courtship, and they were married in secret by a Justice of the Peace in Kenosha, Wisconsin.  The pair kept their clandestine marriage a secret until the news broke in the national papers in November of that year.  As it turned out, their marriage was a tempestuous one that ended four years later.

Margaret Mather, ca. 1890
While true love may have alluded Gustave in his first marriage, his second was indeed lasting.  Hilda Lemp was a daughter of one of Captain Pabst's closest friends, William Lemp—owner of the Lemp Brewing Company in St. Louis.  Gustave would have known Hilda since they were both children and that they both were drawn to each other following his divorce from Margaret was all the more joyous.  They announced their engagement in May 1897, shortly before Hilda left with her parents on a European holiday.  Gustave, as impulsive as ever, sailed after Hilda the following month.  While a big wedding in Milwaukee or St. Louis would have been expected, a small romantic wedding was planned on the Isle of Wight off the southern coast of England to take place on September 14, 1897.  Dressed in a Worth wedding gown that was secured in Paris, Hilda married Gustave before a small group of friends and family before they departed on their honeymoon.  They too had a long-lived marriage, producing three sons.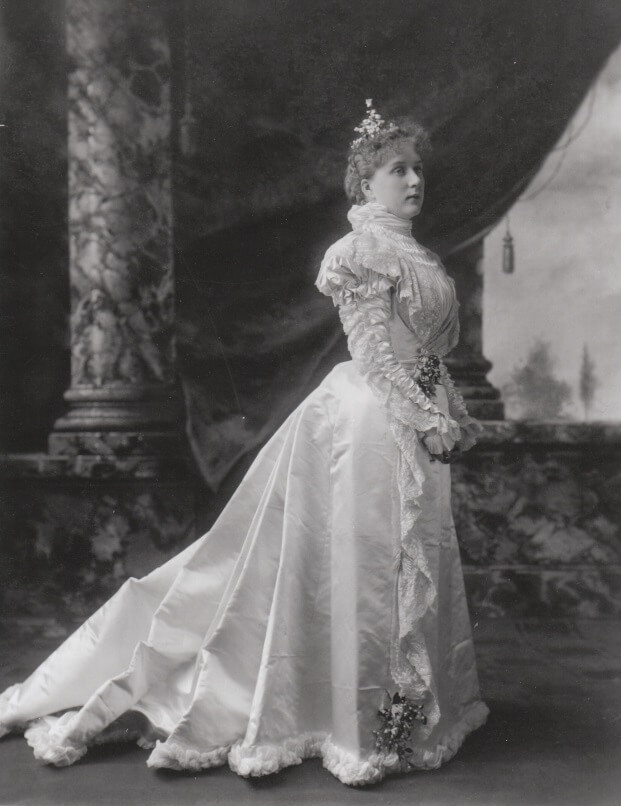 Hilda Lemp on the day of her marriage to Gustave Pabst on September 14, 1897
While these marriages between the brewing families made for interesting headlines at the time, the journey was not always an easy one.  They all had to confront the coming of the Prohibition movement, which would change all of their lives and fortunes in significant ways.  The Houses of Pabst, Schlitz and Lemp would all go through a trial by fire, but in the end, they all did it together, intimately understanding the monumental upheavals of the brewing industry in the 20th century that they had to endure.