JIGSAW PUZZLES
Move the pieces directly on your screen to assemble the image!
Portrait of Captain Frederick Pabst
Franz von Lenbach (German, 1836-1904), Portrait of Captain Frederick Pabst, 1895
This portrait of Frederick Pabst is a dramatic and detailed rendition of the Captain. Lenbach does not portray Captain Pabst as idealized, and the portrait is not the most flattering as Pabst family lore relates the Captain delayed von Lenbach's vacation plans to produce three identical portraits for a fee of 18,000 marks ($4,500 dollars in 1895). The short dramatic brush strokes showed every skin blemish and flaw with a severe hairline when compared to other portraits and photographs of the Captain from the time. Captain Pabst did not approve, and had the blemished skin over painted, which was discovered when the painting was conserved in the early 1990s.​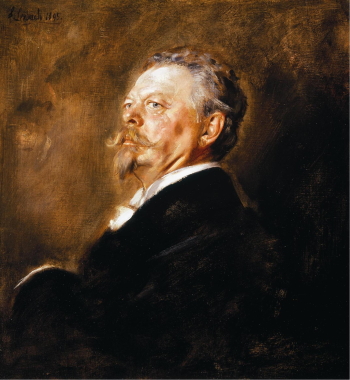 ---
The Sheep Fold
Eugene Verboeckhoven (Belgian, 1798-1881), The Sheep Fold, 1875
Purchased in 1894 from the Gross & Van Gigch art dealer, The Sheep Fold was one of two paintings owned by Captain Pabst from the artist Eugene Verboeckhoven.  Considered one of the foremost animal painters of the 19th century, the animals in his work are thought to often bear human characteristics.  Verboeckhoven was referred to as the "Raphael of sheep" in a book authored by Patrick and Viviane Berko "for his rams are so well drawn, arrogant and proud; his ewes surrounded by graceful lambs, look gentle and complacent as ewes do".  In fact Verboeckhoven frequently was requested to paint the animals as part of landscapes by other artists.  An interesting side note, Verboeckhoven was a freemason who systematically added the three Masonic points triangle to his signature beginning in the year 1850.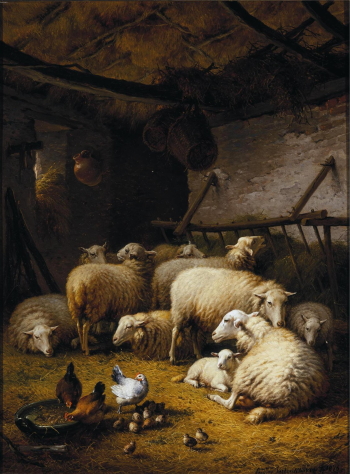 ---
Selecting the Fabric
Frederick Soulacroix (French, 1858-1933), Selecting the Fabric, Last quarter of the 19th century
Like his well-known painter and sculptor father Charles Soulacroix, Frederick had a particular interest in the elegance of Parisian high life.  He was fascinated with depicting scenes of the upper class at leisure dressed in lavish silks and satins, such as are represented in this painting.  He often created images of social serenity, capturing the intricate details of luster, texture, and reflection in the textiles surrounding the subject(s).  Frederick Soulacroix enjoyed tremendous success in his lifetime.  His paintings were mainly produced for private customers coming from the United States, England, Germany, and Canada.